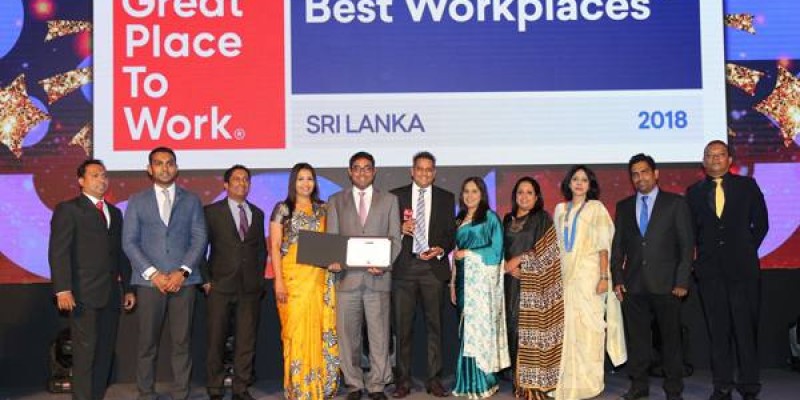 EWIS 'A GREAT PLACE TO WORK' FOR THE FOURTH SUCCESSIVE YEAR
July 14th, 2017 by Ewis Tech Company
---
E-W Information Systems Limited with EWIS Peripherals (Pvt) Ltd. were judged within the Top 25 of Sri Lanka's Great Places To Work at the Great Places to Work (GPTW) awards ceremony, organised by the GPTW Institute recently at the Colombo Hilton. This is an accolade the company has received for the fourth consecutive time.  
The Great Places to Work Awards recognises organisations in Sri Lanka based on feedback from employees on what makes an organisation a great place to work. In the year 2018, research was conducted in Sri Lanka by GPTW Institute in partnership with LMD and the Ceylon Chamber of Commerce. Out of over 115 leading corporates and over 30,000 employees in the country amongst whom this research was conducted, EWIS was one of the two IT companies to be recognized for this award.
"This is indeed a great achievement," stated Sanjeewa Wickramanayake – the chairman EWIS. We have been in the IT industry for the last 33 years and continue to serve our customers with the same enthusiasm we had at the beginning. This is because of the young and dynamic team we have. It is they who drive the business. They are our greatest asset. 
EWIS's strong 'people' oriented policy has been lauded by GPTW Institute Sri Lanka as the Group enjoys this accolade for the fourth consecutive year. Amongst the criteria for selection, EWIS shone in terms of Visionary Leadership and Entrepreneurship, Friendly Management, Unique Team Culture, Comfortable Working Environment, Performance Evaluation, Training & Learning Opportunities, Motivational Activities, and its CSR Projects.
---
EWIS 'a Great Place to Work' for the fourth successive year (The Island)
http://island.lk/index.php?page_cat=article-details&page=article-details&code_title=188835
EWIS a Great Place to Work for the fourth successive year (adaderanabiz.lk)
http://island.lk/index.php?page_cat=article-details&page=article-details&code_title=188835http://bizenglish.adaderana.lk/ewis-a-great-place-to-work-for-the-fourth-successive-year/
EWIS Colombo ranked among 'Top 25 Great Places To Work' (Daily Mirror)
http://www.dailymirror.lk/article/EWIS-Colombo-ranked-among-Top-Great-Places-To-Work–133087.html/
EWIS amongst top 25 Great Places to Work (Daily News)
https://www.dailynews.lk/2018/07/31/business/158323/ewis-amongst-top-25-great-places-work