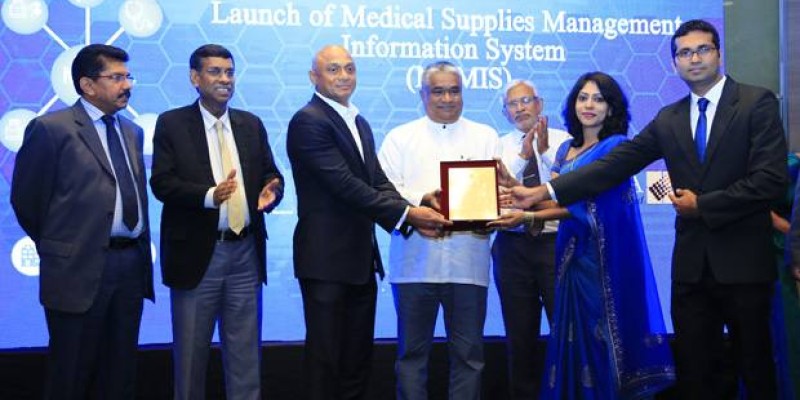 EWIS LAUNCHES SOUTH ASIA'S FIRST MEDICAL SUPPLIES MANAGEMENT INFORMATION SYSTEMS
April 17th, 2018 by Ewis Tech Company
---
E-W Information Systems Limited, recently announced that the company has ceremonially launched the MSMIS (Medical Supplies Management Information Systems) for the Medical Supplies Division of the Ministry of Health. Launched under the auspices of Hon. Faizal Cassim – Deputy Minister of Health, Nutrition and Indigenous Medicine, the event was patronized by Mr. Janaka Sugadathasa, Secretary, Ministry of Health, Dr. Anil Jayasinghe Director General Medical Supplies, Dr. Lal Panapitiya Deputy Director General – Medical Supplies and other officials and medical practitioners belonging to the Ministry of Health. Consulted and launched with the assistance of the Information and Communication Technology Agency of Sri Lanka (ICTA) this is well timed with the Sri Lankan government's vision of streamlining the Medical Supplies Division (MSD) of the Ministry of Health.
The Medical Supplies Division (MSD) of Ministry of Health is the main central organization responsible for providing all pharmaceutical items, surgical items, laboratory equipment, radioactive items, narcotics items and printed materials needed for patient care services. The main functions of MSD are estimation, indenting, procuring, storing, monitoring, distributing and accounting of the medical supplies to all government health institutions in Sri Lanka. In addition to this, the MSD is responsible for supplying the private sector with all dangerous drugs and essential medical items which are not available in the open market.
Commenting at the inauguration event, Mr Sanjeewa Wikramanayake – Chairman E-W Information Systems Limited stated, "Our Medical Supplies Management Information System is based on an Enterprise Resource Planning Software (ERP) which is called Pronto Xi and has been custom-made by the EWIS software development team to suite the operations of MSD. EWIS is also the Sole Authorized Reseller for Pronto Xi ERP in Sri Lanka. The MSMIS System has planned to manage all supply chain activities related to medical supplies. As a local entrepreneur I would like to state that this system is in par with the global technology due to the partnerships that EWIS shares with global partners for knowledge sharing. However, I am very clear about exposing our local talent to nurture and motivate them to bring about their inherent talents for innovation for a sustainable future".
The EWIS MSMIS is the only e-government application that has been in live operations since 2015. It has been tested across multiple government organizations (SPC, NMRA, SPMC etc.), and I am indeed happy to be present here at the formal inauguration of this successful system" stated Mr Kanchana Thudugala, Director Special Projects, ICTA. MSD is the only government organization is Sri Lanka to have over 2000 users registered on the system which connects over 300 users at any given time. It is also the only system available to manage the whole supply chain process of the MSD efficiently, effectively and economically".
Commenting at the event Dr. Anil Jayasinghe – Director General, Medical Supplies stated "The operation of medical supplies is not only critical but also a difficult task to handle. The MSMIS system is one of the most significant achievements not only for the MSD but also for the medical health information system in the country."
"This is indeed a proud moment for Sri Lanka as we are the first to implement a fully automated total solutions medical procurement and distribution system in South Asia " stated Janaka Sugadathasa Secretary, Ministry of Health. "My heartiest congratulations and best wishes to the MSD, ICTA, EWIS and all other Health institutions for this victorious achievement"
---
EWIS Launches South Asia's first Medical Supplies Management Information Systems (DeranaBIZ)
http://bizenglish.adaderana.lk/ewis-launches-south-asias-first-medical-supplies-management-information-systems/