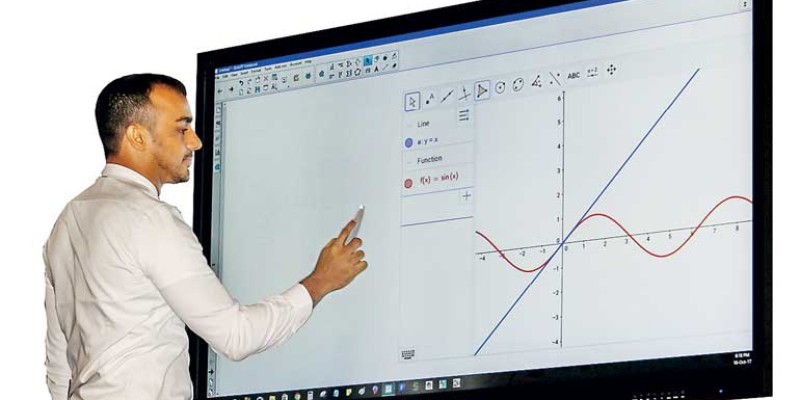 EWIS POWERS SRI LANKA'S VERY FIRST SMART CLASSROOM SOLUTION
December 14th, 2017 by Ewis Tech Company
---
The EWIS Group, pioneers within the ICT industry in Sri Lanka, recently announced the launch of its Smart Interactive Display, the combined Digital Screen and Open Pluggable Specification which can establish the foundation of SMART Classrooms.
This Smart Interactive Display can co-exist with the traditional whiteboard or blackboard, transforming the way teachers educate students. 
This all-new Smart Interactive Display, which is the latest addition to EWIS's educational products portfolio, was first launched at Ladies' College, Colombo 7 – the first school in Sri Lanka to launch and experience the benefits of  SMART classroom solutions in all classrooms.
"A SMART Interactive Display can be used by teachers and lecturers to adopt a more holistic teaching methodology – moving away from the traditional rote method of teaching," commented E-Wis Information Systems Chief Operating Officer Nirmal Pieris.
EWIS ensured that the whole system was SMART, safe and secure – where teachers have total control of the whole SMART system which can be password-protected.
The EWIS Smart Interactive Display combines the features of a Smart Television and a Computer. The main features include the 10 Finger Multi-Point Touch Facility, with Higher Definition Resolution which has the capacity to even play Ultra High Definition videos and multiple ports which can be utilised to connect external displays or storage devices. Based on the customer preference, the device can be provided in three screen sizes (65", 75" and 85").
---
EWIS powers Sri Lanka's very first Smart Classroom solution (Daily FT)
http://www.ft.lk/it-telecom-tech/EWIS-powers-Sri-Lanka-s-very-first-Smart-Classroom-solution/50-645663