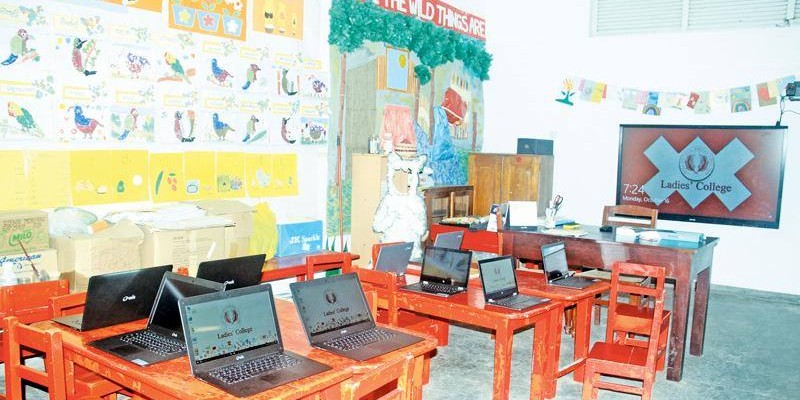 LADIES' COLLEGE INTRODUCES INTERACTIVE BOARDS: ALL CLASSROOMS TO BECOME 'SMART'
October 14th, 2017 by Ewis Tech Company
---
Smart classrooms have overtaken the educational market in Sri Lanka, promising advanced levels of learning in fun and technologically innovative ways. Ladies' College Colombo is at the forefront of this new form of learning, featuring smart classrooms throughout the school. Thanks to the Old Girls' Association of Ladies' College Colombo, the College has been able to revolutionise classroom teaching by helping them become the first school in Sri Lanka to be fully equipped with interactive boards in each class.
A member of the OGA, Nirupa Karunaratne speaking to the Sunday Observer said, "So far we've got 26 interactive smart boards and we will be getting 18 more. Altogether there are 54 classrooms at Ladies' College. We will start this new technology-based system once everything is fixed for all classes. The teachers will be given training on the use of interactive boards by the EWIS Company. The teachers will be provided with laptops and later on, we have ideas to provide laptops for the students as well." It is hoped that these boards will transform each classroom into a state of the art learning space which will foster curiosity and encourage interactive learning.
The speed of the new system reflects the commitment of the school to embracing positive change and investing in technology. It will place Ladies' College at the forefront of modern education in this country, leading the way towards a smarter Sri Lanka. A demonstration was conducted by EWIS at the launch about the software and on the use of interactive boards.

---
Ladies' College introduces interactive boards: All classrooms to become 'Smart' (Sunday Observer)
http://www.sundayobserver.lk/2017/10/22/features/ladies%E2%80%99-college-introduces-interactive-boards-all-classrooms-become-%E2%80%98smart%E2%80%99