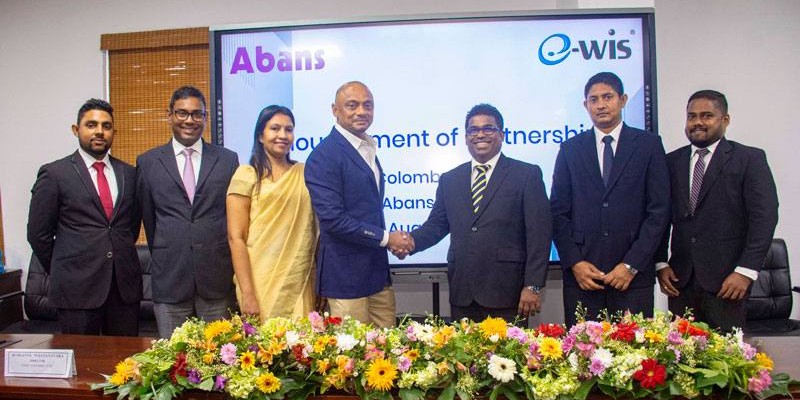 Abans-EWIS Agreement signing
August 12th, 2022 by ew@admin
---
"Innovation is the combination of different ideas and contribution of the different minds."
Abans PLC formed a manufacturing partnership with EWIS Colombo Limited, the only original equipment producer in Sri Lanka, to produce the newest electronic devices for the island nation's consumer electronics sector.
This partnership agreement was signed by Buddhika Dharmawardena – Chief Marketing Officer of Abans PLC and Sanjeewa Wickramanayake – Chairman of EWIS Colombo Limited on the 10th of August 2022 at the EWIS Group Head Office.
According to the organization that made the statement, the action does not only boosts Sri Lanka's economy but also opens up several chances for the future of the nation during these tough times these initiatives helps the generations to come at the economy in a positive way. This agreement being implemented at a time when the nation's economy is at its most vulnerable. In an effort to revive the faltering economy, Abans and ECL have taken the initiative to promote local manufacturing. By lowering imports, the well-known merchant and original equipment manufacturer stand to save the nation a sizeable sum of foreign currency.
Making and assembling high-quality equipment will have a significant positive impact on the pricing factor for businesses as well as consumers, proving that products labeled "Made in Sri Lanka" can be superior and of higher quality than those from other brands.
Sanjeewa Wickramanayake, the chairman of EWIS Colombo Limited mentioned in his speech that "One of the key future aspects of this partnership is to manufacture high quality smart phones to the Sri Lankan market at an affordable price with the latest technology"
Buddhika Dharmawardena, the chief marketing officer of Abans PLC, spoke at this event and notably mentioned that EWIS Colombo Limited would produce televisions, mobile phones, as well as other electronic devices for the local market under the Abans trademark.
In the long run, and particularly during the current economic crisis, this strategic relationship will improve and enrich both brands through a variety of reciprocal benefits.