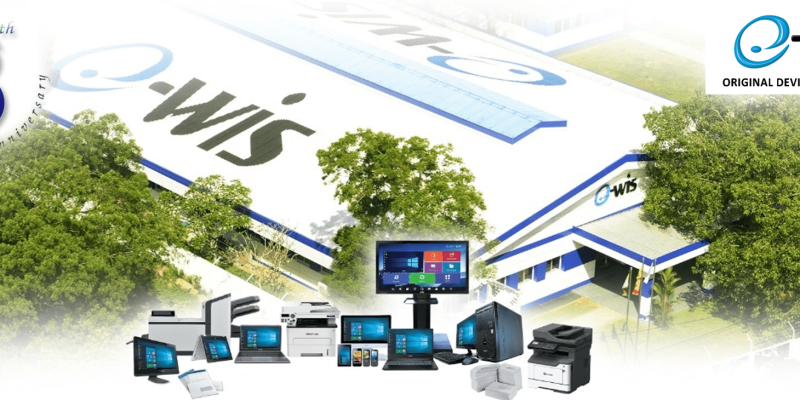 Celebrating 8 years of Inspiring the Digital Experience.
November 21st, 2021 by ew@admin
---
8 years ago, EWIS a pioneer IT company with decades of excellence in providing hi-tech IT devices and solutions ventured into setting up Sri Lanka's first and only world standard Original Device Manufacturing (ODM) factory in Sooriyawewa, Hambantota. The factory is specialized in producing and customizing high end IT devices to meet the needs of customers. Along with our global partnerships with international giants such as Intel and Microsoft, factory has been delivering its promise of unmatched quality and reliability.
The factory was recognized amongst the 10 Best Workplaces for Women™ for the 7th year in 2022 depicting the positive work practices and threshold of women that the factory consistently empowers through employment. The factory produces over 500 IT devices per day to public, financial, and corporate enterprises. All products are certified under CE, FCC and RoHs certifications.
Covid-19 pandemic led to the closure of schools and universities, forcing the students to shift to Online Learning as an alternative. So, we responded to this sudden shift by introducing an affordable laptop especially designed for Online Education. We also facilitated online purchasing through buyewis.lk and facilitated door-to-door delivery.
We provided Engineering and Technical Support to the National Broadcast Provider; Sri Lanka Rupavahini Corporation to telecast a series of educational programmes under the title "edu.com" and "guru thalaawa" to gratify the educational needs of the students who will be sitting for Grade 5 Scholarship, GCE Ordinary Level and Advanced Level Examinations. Modern study equipment such as smartboards were provided to conduct the lessons effectively.
As a tech company that touches lives, we make a conscious effort to empower the education sector through technology. Therefore, with the collaboration of Ministry of Education, we rewarded the top performers of Grade 5 Scholarship Examination 2020 and two students who have shown exceptional achievements by donating 12 smartboards to the schools in which they study. We have created a culture ingrained with sustainability where we inspire our employees and multiple stakeholders we work with, to become catalysts of change in their communities and beyond.
We also contributed for globally significant projects during Covid-19. One such project is making the necessary arrangements to facilitate effective communication in hosting the video conference which took place among the leaders of SAARC member countries to discuss a joint strategy to fight against Covid-19. Company also implemented a smartboard at the Prime Minister Office for the Presidential Task Force to carry out effective communication during Covid-19. In addition, we provided technical support to Ministry of Public Administration, Home Affairs, Provincial Council & Local Government, Supplies Department, Attorney General's Department, Department of Immigration & Emigration, Hatton National Bank, Bank of Ceylon, Japan Airport Consultation, Reckitt Benckiser and Credit Information Bureau.
The power of a nation lies in technology edge in almost every domain. So, we will continue to contribute to the Sri Lankan Economy and mark the Sri Lankan footprint in the global arena.