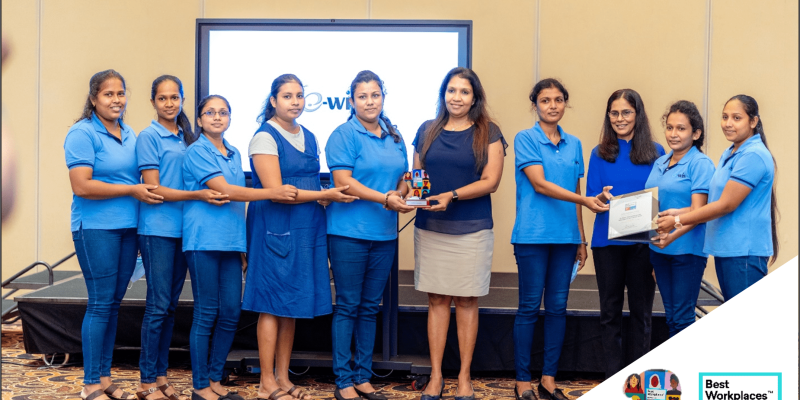 Sri Lanka's first and only Original Device Manufacturing Factory is a Best Workplace for Women, for the third consecutive year
December 5th, 2021 by ew@admin
---
Sri Lanka's first and only Original Device Manufacturing Factory, EWIS Colombo Limited (ECL) was recognized amongst the ten Best Workplaces for Women Sri Lanka-2021 for the third consecutive year.
Located in the humble outskirts of Sooriyawewa Hambanthota, ECL is known for designing and developing high quality IT devices. Employing over 60 individuals, with 90% being females, factory is known for the threshold of women it continuously empowers through employment. Over the years factory has gained a reputation for its female representation in a traditionally male-dominant industry.
ECL has a culture ingrained with inclusion and equality where employees are surrounded by strong female leaders and anyone can reach the management or leadership level if they aspire to and are willing to work for it. It is not unattainable.
"It's a great pleasure to work for EWIS because working in an IT device manufacturing factory gives us a higher recognition in the society" stated Shanika Kumari, an employee at EWIS Colombo Limited. Employee turnover rate is also significantly low.
The Best Workplace for Women Awards is offered based on the employee feedback. The results are derived by surveying over 33,500 employees from 99 companies. The award is presented based on the following criteria; overall positive perception of female employees, representation of women in the workplace, and best practices and policies.
"Female representation is visible through all levels of the organization, so there is an empathetic, nurturing approach of management at ECL. We are also conscious about creating a safe environment with zero tolerance for workplace harassment". Stated Mr Sanjeewa Wickramanayake, Chairman EWIS Group. The company also takes "celebrations" seriously. Various engagement activities are conducted to create "fun at work" to enhance employee wellbeing. ECL is indeed a pleasant place to work, and the company is obliged by the honour of being recognized as a Best Workplace for Women 2021.